MUSEUM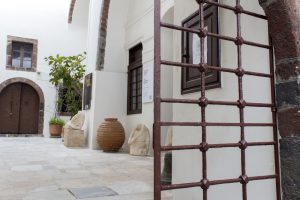 The Gyzi Megaron Museum is situated in the Halls of the Cultural Centre, where six permanent collections are hosted:
A collection of authentic engraving ,maps, landscapes, traditional costumes of the inhabitants of Santorini and other  Aegean islands from the 15th to the 19th century.
A collection of old historical documents of Thira. In the exhibition documents are presented  which belong to the Records of the Catholic Diocese of Santorini and which cover a wide range of public and private life on the island from the end of the 16th century to the beginning of the 19th century.
A collection of paintings (donated by Kalliopi and Leontos Pintou)
A collection of old photographs of Santorini
A collection of rocks from Santorini.
Artefacts of folklore and ethnographic interest from the collection of Niko and Konstantinia Tsitsa (donated)
Operating Season & Museum΄s Hours:
1st May – 31st October:
Hours:
Monday – Saturday: 10:00 – 20:00 (July, August) &10:00 – 16:30  (May, June, September, October )
Sunday: 10:30 – 16:30 (July, August)
Information:
Contact: Evangelia Ksagorari
Tel: +30 22860 23077