ZOE PAPADOPOULOU
The festival's musical journey begins on 4/8 with Zoe Papadopoulou, a singer who has won the audience with her vocal abilities and interpretation through partnerships in recent years with well known Greek artists. For 2011 she has prepared a musical journey through time, based on the feeling and emotion that good Greek songs know how to cause. She interprets old and latest songs of the soul and songs from her personal discography, in a musical compilation for piano and voice. Together with her on the piano is Sassa Papalamprou.
Zoe Papadopoulou, vocals
Sassa Papalamprou, piano – vocals
ZOE PAPADOPOULOU, vocals
Zoe Papadopoulou is a Greek singer, who ever since she was a little girl had the dream of becoming a professional singer, and this dream came true. After graduating from College, she started singing at clubs in Thessaloniki, Greece, where she was born and grew up. That was the place where the famous Greek singer Dimitris Mitropanos heard her singing and immediately invited her to go to Athens and participate in the summer music concert tour he had organized! That was almost nine years ago.
In 2002, Zoe Papadopoulou came to Athens, where she immediately started a series of exceptional music collaborations and she appeared on stage with famous and extraordinary Greek artists, as Dimitris Mitropanos, Haroula Alexiou, Yannis Kotsiras, Eleftheria Arvanitaki, Kostas Makedonas etc. Three years later, her first album was released, titled "Krystalla kokkina filia", which was produced by Haroula Alexiou. The album was a great success and the duet song of both Zoe Papadopoulou and Haroula Alexiou, "Ah kai na se iha edo" was the one that mostly stood out, as it combined the voices of two great singers.
In 2008, her second album, titled "Τatouaz", was released. The homonymous song was a great hit, once again with the lyrics of Haroula Alexiou, who has not stopped believing in her. From then and on, Zoe has been invited by many music festivals and clubs, where she has presented her own live concerts marking her personal music path.
Zoe Papadopoulou has organized for 2011 a live music tour all around Greece and abroad, with a show that apart from her beautiful songs also includes foreign modern and more classic songs, and generally songs that touch everyone's heart. Her show is supported by the pianist Sassa Papalamprou in an extraordinary combination of musical rhythms.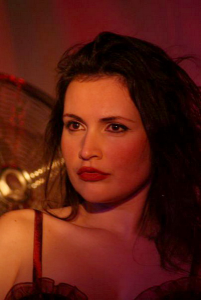 Sassa Papalamprou, piano – vocals
Sassa Papalamprou was born in Drama in 1980. From her childhood she studied classical piano lessons and other academic subjects. She graduated in Harmony with cum laude honors. She studied at the Ionian University of Corfu, in the music department, while making classical voice lessons. She specialized in studies on jazz singing, watching numerous seminars, as well as in jazz piano. She was professor of voice and other academic subjects, in cooperation with conservatories of Corfu, Thessaloniki and Athens.
From 19 years old until now she has collaborated with live music scenes, piano bars and hotels in Thessaloniki, Athens and other cities, as a singer and pianist with a repertoire of jazz, latin, funk, soul and Greek rembetiko and retro. She has participated in concerts of Greek and foreign repertoire throughout Greece.
She has participated to the jazz festival of Thessaloniki in 2008, at the music scene of Mylos, together with bassist Dimitri Goumperitsi and participated in the record collection of Jazz Society 2008/09, with their piece «Moments without you». She took the second prize of singing at a pan-European contest in Bulgaria in the spring of 2003 and had a proposal for cooperation by the Bulgarian National Radio.
She took on the orchestration of musical and theatrical performances «Anemistiras» and «Portraito» (2009-10) and participated as a singer, actor, pianist and accordionist. She collaborated with the theatrical group «Tsiritsantsoules» as an actor and musician in the child performance of «The Day After Tomorrow» with appearances at festivals of Naxos and Rio, at the «Fournos» and «Altera Pars» theatres.