ANDERS LONNE GRONSETH & DAVID SKINNER
Jazz Duo
The festival continues on 7/8 with a unique collaboration, the award-winning jazz duo with Norwegian saxophonist Anders Lønne Grønseth and English pianist David Skinner, who are playing together since 1999 as members of the Norwegian jazz quartet Sphinx. Since 2005, they started playing together as a duo, looking for new directions and ways to combine their influences from American jazz, European classical music of the 20th century and contemporary jazz. They are going to present a wide repertoire ranging from works of well-known composers (such as Messiaen, Bartok and Ligeti) to jazz standards, but also their compositions from their personal discography.
Anders Lønne Grønseth, saxophone
David Arthur Skinner, piano
Anders Lønne Grønseth / David Arthur Skinner JAZZ DUO
Norwegian saxophonist Anders Lønne Grønseth and British pianist David Arthur Skinner have been collaborating for many years in different formations. They have toured extensively, released several albums and received international prizes and acclaim for their music. Pianist David Arthur Skinner and saxophonist Anders Lønne Grønseth have played together since 1999 as members of the group Sphinx, which has toured internationally for many years.
In 2005 they began working together as a duo, to explore more «classical» sonorities. In duo-format, they are seeking new directions and ways to combine their influences from American jazz, European classical music of the 20th century, ethnic music from different parts of the world and contemporary jazz compositions. The borders between the improvised and the composed are challenged and come together in imaginative and innovative chamber music.
In 2006, they released the first duo album "Phantasmagoria", which was met by the critics with enthusiastic acclaim. The instrumentation of just piano and saxophone, without bass and drums, opened up new possibilities for working with a less overtly rhythmic manner of phrasing, and a flexible form. In this way improvisations could be used to link written sections, rather than extemporizing on the harmonies of a repeated chord-sequence. The great composers of the 20th Century are often mentioned among the main inspirators of modern jazz musicians. A unique genre is emerging where sounds and ideals from the European classical tradition is combined with ideas from American jazz.
Among the most prominent composers are Olivier Messiaen, Bela Bartok and Gyorgy Ligeti. Through their project «Arc-en-ciel», Grønseth and Skinner interpret the masters from their own improvisatory angle. Their latest album «Arc-en-ciel» features partly-improvised arrangements for piano and saxophone of various classical pieces, which were originally written for piano alone: Olivier Messiaen's «Preludes», Gyorgy Ligeti's «Etudes» and two chromatic fantasies by Bela Bartok΄s «Mikrokosmos». The listener is invited into the exploration of unusual tonalities and rhythms, improvised forms and shapes, and expressions from the quiet and contemplative to the ecstatic.
Their repertoire stretches over a large span, from works by famous composers to jazz standards and original compositions. In summer 2011, the duo will be performing in Norway, France, Greece and Japan.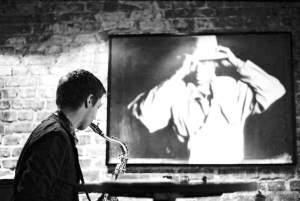 Anders Lønne Grønseth, saxophone
Born in 1979, resident in Oslo, the Norwegian reed-player Anders Lønne Grønseth plays soprano, alto and tenor sax, as well as clarinet and bass clarinet. Anders started playing the piano at early age, and got his first tenor sax at age ten.
He studied briefly at Leeds College of Music before choosing to return to Oslo to study jazz and contemporary composition at the Norwegian State Academy of Music in Oslo, where he took his Bachelor's degree in music. He also has a Master's degree in performance from Gothenburg University in Sweden.
He is a busy professional musician who works as a conductor with several different Big-bands. He has very wide musical interests. He is also very active as a composer; he writes for string quartets as well as jazz groups. His wide interest in Music around the world has also lead him to studies of Arabic music tradition and Indian classical music at Pandit Debashish Bhattacharya's School of Universal Music in Calcutta, India.
Anders composes and plays regularly with the quartet Sphinx, the Anders Lønne Grønseth / David Skinner duo and Mini Macro Ensemble. He also runs the record label Pling Music.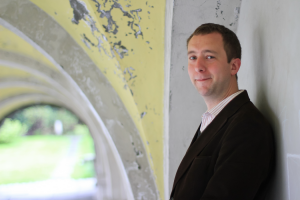 David Skinner, piano
David Skinner plays the piano, guitar and percussion, composes music and writes about music theory. He grew up in the south of England and spent a year in France teaching English, before moving to Yorkshire in 1999 to go to the Leeds College of Music. He left the college after a year, but carried on to become a full-time musician.
Over the course of the next five years, he played hundreds of gigs, mostly in the Yorkshire area, but also all over England. He got experience playing many styles of jazz (traditional, swing, bebop, funk, free impro) with a wide range of musicians in a variety of venues. Skinner was also house pianist at several local jazz clubs over the years.
It was when he was studying at Leeds College of Music that he joined the group Sphinx. This group has played extensively in Norway and England, and has also taken part in festivals in Germany, France, and Belgium, as well as releasing four albums and touring in Finland in 2006 and Japan in 2007 and 2008; with a fourth tour planned in 2011.
Skinner moved to Norway in 2005, first to Oslo, and then to Bergen in 2007, where he now studies classical composition at Griegakademiet. He still works as a musician and piano teacher and has played all over Norway, from the south coast to Svalbard.