TAKIS BARBERIS Group
The journey continues on 20/8 with Takis Barberis Group in a special coexistence between East and West, where jazz music meets magically funk and rock but also the Indian, Balkan and Greek music. Takis Barberis on guitar, one of the most important Greek jazzmen, interprets both older and new unreleased compositions of him accompanied by Manos Saridakis on piano, Yiorgos Georgiadis on bass and Michalis Kapilidis on drums.
Takis Barberis, guitar
Manos Saridakis, piano
Yiorgos Georgiadis, bass
Michalis Kapilidis, drums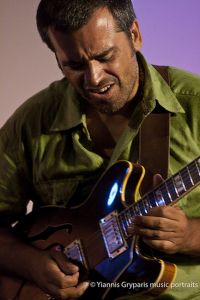 Takis Barberis, composer – guitarist
Takis Barberis was born in Athens in 1963. His relationship with music began at the age of 15. He attended the National Conservatory of Greece, studying classic guitar with Dimitris Fampas, higher theory with Yiannis Avgerinos and on graduation also received the Harmony certificate. Simultaneously he played electric guitar in many rock groups. His interest in jazz began in 1979 and it would determine his future course.
In 1982 he presented his first compositions with the band «Jazz Fusion Quintet» when his cooperation with David Lynch and Takis Farazis began, continuing later in the group «Iskra» (1985), with G. Fakanas, N. Touliatos and L. Pliatsikas. 'Iskra' was one of the most successful and progressive groups of that era, releasing their first album «A New Day» (Polygram) in 1986 that also includes two of his compositions. In the period 1987 – 1989 he formed the group «Model 63» in a more experimental approach of rock music with Greek lyrics, they released the album «Model 63» (Lyra 1988).
In 1990 his first personal album was released entitled «Something From July» (Lyra), with his compositions from the 80's including many Jazz, Rock and Latin influences, with the participation of T. Farazis, G. Kontrafouris, T. Paterelis and K. Kalogirou. «Are You Happy?» (Lyra, 1992) was his second album, with the classic sound of a Jazz Quintet (G. Kontrafouris, T. Paterelis, G. Vassalos, K. Kalogirou). This second album was Barberis's first venture into combining Jazz rhythms and harmony with Eastern and Greek elements.
In his third and most mesmerising album «Episodes» (Lyra 1995) explores these themes even deeper with the participation of internationally known Indian percussionist Trilok Gurtu and the traditional Greek musician Petro-Loukas Halkias on clarinet, and eight highly talented Greek musicians (P. Benetatos, G. Kontrafouris, T. Paterelis, Y. Kiourtsoglou, G. Vassalos, K. Kalogirou, T. Farazis & P. Kourtis). The critics characterise "Episodes" as one of the most successful combinations of jazz and traditional elements (Greek and Indian music).
Barberis continues and evolves the influences that we meet in "Episodes" with his fourth album «Naiva» (Lyra, 1998), a play on naivety in title and music with the return of Petro-Loukas Halkias and the Indian musicians Reshma Srivastava and Shankar Lal. 'Porto Kayio' (LIBRA MUSIC, 2004) is his latest album, a soundtrack for journeys through splendid vocals, sounds and rhythms, analogue as well as digital. Together with his bassman Yiorgos Georgiadis, drummer Michalis Kapilidis, pianist Manos Saridakis and fellow passengers Debashish and Subhasis Bhattacharya from India, Takis Barberis creates each piece as a musical homeland: from Greece to India, Middle East, Africa and once again back to his own land.
Barberis has collaborated with Trilok Gurtu, Glenn Corneille and almost all Greek musicians of Jazz scene, and has taken part in many live performances in Greece and abroad.
Since 1981 Barberis teaches modern guitar and improvisation at various Conservatories (National Conservatory of Patras, Pindareio, Raimondi Conservatory, R.S.I.). The last six years he has been working at the F. Nakas Conservatory teaching jazz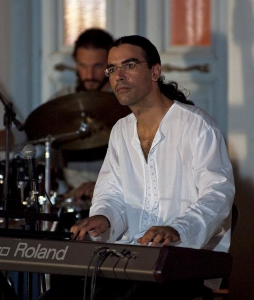 Manos Saridakis, piano – keyboards – hammond organ
Manos Saridakis was born in Athens in 1977. At the young age of 12 he was already performing with school bands, and by the age of 14 he had already appeared on television nationally in Greece. Manos joined Dimitri Vassilakis´ quartet in 1993 at the age of 15, establishing himself as a kid prodigy to the professional Greek music scene. Joining Takis Barberis´ band in 1997 gave Saridakis his first recording experience, when he participated on Barberis' "Naiva" CD, which was on the top of the charts in Greece in 1998.
In 1999 he joined Mode Plagal. This experimental group combined the traditional music of Northern Greece with elements of African-American music. The band created a new "mainstream" on the Greek music scene, that received recognition not only all over Greece, but also in other countries in Europe, Asia, and America. They received 5 snares in "Modern Drummer" for the first CD. The 2nd CD was voted 96 on the World Music Charts in Europe for 2000, and the 3rd CD has reached the Top 20 of the charts in Greece, and was voted No 13 in the Top 20 of the WMCE (World Music Charts Europe) in March 2002 and No 33 in the TOP 100 for the Year 2002.
During that time Saridakis participated also to Dimitri Vassilakis "Daedalus Project-Labyrinth". This album was album of the month for the BBC music magazine March 2002 and was voted 2nd jazz album of the year 2002 at the BBC Internet poll.
In 2006 Manos earned a place in the top 25 best jazz piano players in the world under the age of 30 in the prestigious Thelonius Monk competition.
He has also recorded and/or performed with America´s jazz & rock artists such us: David Liebman (sop. sax), Mark Johnson (bass), Ralph Peterson (drums), Jamey Haddad (drums, percussion), Melissa Slowcum (bass), Essiet Essiet (bass) Ron McClure (bass), Satoshi Takesi (drums, percussion), Bill Derby (guitar), Todd Isler (drums), Kenny Rampton (trumpet), Lily White (sax), Andrea Valentini (drums), Bud Maltin Orchestra, Vali Music, Power Stacion Orchestra; and European artists, such as Bulgarian master of kaval Theodosii Spassov, Kostas Anastasiadis (drums), Petro-Loukas Halkias (clarinet) and the vocalists Savina Yiannatou, Eleni Tsaligopoulou, Dimitris Basis, Theodosia Tsatsou, Arleta, Sotiria Leonardou and many more.
He has performed in major festivals, concert halls, clubs and in Private Functions such as Birdland, Blue Note, Yale University, Smoke, Cleopatras Needle, Pumpkins, Sugar Hill Bistro, 17 MAIN, Assembly, South City Grill, Palmers Crossing, Onassis Foundation, World Yacht Club, The Princeton Club, The Penn Club, NYC Athletic Club, The Hilton Hotel, The Marriott Hotel, The Pier Hotel, The Skyline Club at Met Life Building, Barbican (UK), Athens Concert Hall (GR), 1st and 2nd Ethnic-Jazz festival in Athens (2000-1), National Percussion Festival, Half Note Jazz Club, Parafono, Diogenis Pallas, Iera Odos, Sfedona, Hi-Hat, Bebop, President Hotel, Intercontinetal Hotel, The Hilton Hotel etc.
«Saridakis solos have clear compositional direction with energy and attention focused on particular figures and developments. It was as if the clouds had parted, and the scene was suddenly visible and compelling».
«Live at Birdland NY», NEW YORK PRESS, Jim Eigo
«Mode Plagal is Hipper than any new American record I've heard in a long time. They take traditional dances and carols from Macedonia and Thrace and grooves them to death. On a recent visit to Thessaloniki, Billy Cobbam listened to a number of Greek jazz albums. This is the one he bought.»
«MODERN DRUMMER», Hal Howland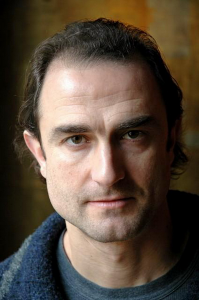 Yiorgos Georgiadis, bass
He was born in Athens in 1969.He studied electric bass with G.Fakanas from 1991. He also studied classical double bass with T.Kapoyannis at Nakas Conservatory from 1995. He took seminaries for orchestra, contrabass (Bagovska, Mc Tyeer, Howard Davis) and free improvisation with N. Veliotis. He graduated with an excellent at the last level on electric bass at the London College of Music & Media.
He has performed with most of the Greek jazz musicians and also with musicians from other countries. He has also cooperated with the Athens Symphonic Orchestra. He has participated twice at the European Jazz Festival of Athens and he is also performing with Athens' Municipality Big Band. In 2004 he participated with various groups in the city of Athens festivities for the Olympic Games. He teaches bass at MMS Athens.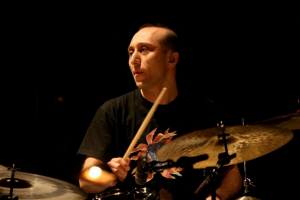 Michalis Kapilidis, drums
Born in 1971, he studied drums from 1983 till 1994 with K. Pogonidis and T. Barbas. From the age of 16 he is a professional drummer and has performed live or recorded with the following, among others, artists: Alkinoos Ioannidis, Eleftheria Arvanitaki, Dimitra Galani, Alkistis Protopsalti, Dionyssis Savvopoulos, Vasilis Lekkas, Stavros Kougioumtzis, Eleni Tsaligopoulou, Melina Kana, Blues Wire, Nick Gravenites, Elli Paspala, David Lynch, Stavros Lantsias, Giotis Kiourtsoglou, Thanos Mikroutsikos, Takis Barberis, Nikos Papazoglou, Stamatis Kraounakis, Kostas Makedonas, Melina Aslanidou, Emilia Ottaviano, Melina Tanagri, Giorgos Dalaras, Manolis Rasoulis, Vasilis Rakopoulos. He teaches drums at MMS Athens.