CHRISTOS RAFALIDES Trio
«POINT TWO»
The program of Megaro Gyzi Festival 2012 is concluded on 23/8 with "Point Two", a meeting of two Greek musicians «of the world», the leading internationally vibraphonist and composer Christos Rafalides, founder of the renowned jazz group «Manhattan Vibes», and the significant bassist and composer Petros Klampanis, with guest the top percussionist Bodek Janke. Through the prism of their experiences, they will perform their own compositions and adaptations of «The Great American Songbook». A balanced dynamic hearing between lyricism, passion, knowledge and skill is what is promised by the three jazz musicians from New York.
Christos Rafalides, vibraphone
Petros Klampanis, bass
Bodek Janke, percussion & drums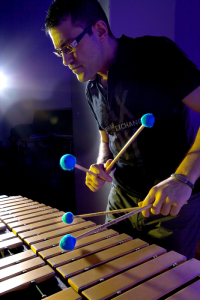 Christos Rafalides, composer – vibraphonist
Born in Kozani, Greece, Christos Rafalides can't remember a time when he wasn't surrounded by music. The influence of his older brother led him to the piano at the age of seven. He began his studies in classical percussion at the age of fourteen, and by the time he was twenty he was working in some of the best Orchestras in Greece. He believed he would continue his career as a classical percussionist, until one evening when he heard pianist George Cables with the group of Billy Cobham 'here was this guy, playing with his shoes off, conveying so much feeling through his instrument… I knew I wanted to be able to express myself like that.» From that moment, Christos knew he would be a jazz musician.
Upon receiving a scholarship to the Berklee College of Music, he moved to Boston, where he completed his Bachelor of Arts degree, studying with Ed Saindon. His desire to continue growing brought him to New York City to study with acclaimed jazz vibraphonist Joe Locke at the Manhattan School of Music. Finishing his Masters Degree, Christos began to immerse himself in the vital NYC jazz scene. In a short while he was playing with such notable musicians as Ravi Coltrane, Antonio Sanchez, Donny McCaslin, Mark Ledford and Ron Affif, among others.
Christos found his personal voice as a player and composer when he established 'Manhattan Vibes', a jazz group with a modern sound, which revealed his developing affinity for Latin and other world musics. The group's eponymously titled CD featured the talents of John Benitez on bass and Steve Hass on drums, two of the most respected young players on the contemporary music scene. The legendary trumpeter Randy Brecker also appears as a special guest. In Jazz Times' magazine's 2002 Year In Review issue, the recording was held as, «…one of the top-ten jazz recordings of 2002».
Christos' latest project is a vibes/marimba collaboration with his erstwhile mentor, Joe Locke. The duo performed original music from their recent release «Van Gogh by Numbers» to an enthusiastic overflowing audience at the 2005 PASIC convention in Columbus, Ohio – an event which sparked considerable interest in the percussion world.
In the spring of 2007, Christos performed a series of concerts with the Charles Mingus «Epitaph» Band featuring bassist Christian McBride and conductor Gunther Schuller. In the fall of that same year, he also performed with the Lincoln Center Jazz Orchestra and Wynton Marsalis at Lincoln Center in New York City.
Whether in the studio or in concert situations, Christos continues to maintain a busy schedule. Recent highlights include a performance as featured soloist with the Orchestra of Colours, performing Thanos Mikroutsikos' «Music Stories» at the Athens Concert Hall; appearing, along with Mike Stern and Dave Weckl, on George Fakanas' critically acclaimed «Domino» CD; featured soloist with Maria Farantouri (Athens Festival) at the Odeon of Herodes Atticus; adding his vibraphone and marimba textures to the recent recordings of vocalists Chaka Khan, Christy Baron, Italian pop artist Jovanotti, Greek singer-songwriter Alkinoos Ioannidis. Recently he played on the soundtrack of Michaels Moore's latest film «Capitalism, a Love Story».
His latest collaboration with Greece's legendary composer Mimis Plessas led to the release of two projects, both based on Plessas' music from the 60s: the album «Echo: the music of Mimis Plessas» (Emarel Music) featuring Evi Siamanda on vocals and the soon-to-be released duo recording «We Two» (Emarel Music) featuring Mimis Plessas on piano and Christos on vibraphone. He also collaborated with pianist Sergio Salvatore in a duo recording entitled «Dark Sand». Salvatore and Rafalides began playing together in 2007, and have gone on to travel throughout the United States with notable performances at New York's Carnegie Hall and Lincoln Center.
Christos has led groups at many of NYC's cutting edge venues including the Blue Note, the 55 Bar, the Jazz Standard and Dizzy's Club Coca-Cola. He is also a member of «Queens College» private lesson faculty.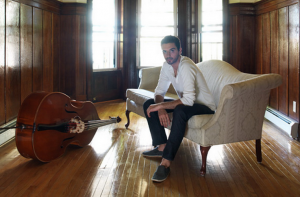 Petros Klampanis, bass
Bassist, composer, and arranger Petros Klampanis grew up on the Zakynthos Island in Greece, a place with very rich musical heritage where Italian and Balkan music traditions melt together. This music amalgam was Petros first major influence and seed of inspiration to pick up the piano and guitar, and start singing in local choirs at a very early age. A few years later, at 15, he attended a pop music concert where he discovered his soon-to-be favourite electric bassist, Yiotis Kiourtsolgou. It was this experience which would open his world to something new: the bass and jazz. Eagerly, Petros pursued the bass with constant playing and practicing and he also began listening intently to artists like Chick Corea, Dave Brubeck, Miles Davis, John Coltrane, Jaco Pastorius.
After finishing high school, he moved to Athens in order to attend the Polytechnic school of the city. It wasn't long before he realized that the ship engineering course was not as desirable as it seemed so he decided to take exams for the Music department of Athens University. His life would take another positive turn when he was accepted in 2001. During Petros' time in Athens, he had the chance of playing with some of the finest Greek jazz artists today. Additionally, he took part in various musical projects such as the Athens Big Band and played in many prestigious venues in Greece like the Athens Concert Hall and Thessaloniki Concert Hall.
In 2005 to 2007, Petros Kampanis continued to pursue a formal education in music by joining the double bass department of the Amsterdam Conservatory where he got his BA degree and graduated with distinction. From there, Petros toured in Europe (Germany, Holland, Luxemburg, Belgium, France, Spain, Monaco, Portugal, Switzerland, Greece, Bulgaria, Cyprus, Latvia, Lithuania, and Estonia) and took part in many major European jazz festivals. During this time, he received many awards and honors in major music competitions most notably the Hoeilaart/Brussels Jazz Competition in 2008, and the YPF International Jazz Concourse and Amersfoort Jazz Competition both in 2007.
In 2008, Klampanis moved to New York City to study and eventually earned a Masters in jazz performance from the Aaron Copland School of Music. Today Petros Klampanis has been performing in various venues in New York, where he has shared the stage with many top musicians from the New York jazz scene including Paul Bollenback, Gretchen Parlato, Antonio Hart, Michael Mossman, Gilad Hekselman, Christos Rafalides, David Berkman, and Fabio Morgera to name a few.
Additionally, since 2009, Petros serves as a guest teacher at the Ionian Music University of Corfu, Greece.
His first personal album "Contextual", featuring Gretchen Parlato, David Berkman, Paul Bollenback and original material for string quartet and solo double bass, has been released in April 2011 on Inner Circle Music label.
«A formidable player and composer,bassist Petros Klampanis […] makes his auspicious Stateside debut with Contextual».
Bill Milkowski, Jazztimes Magazine
«Contextual is one of the most exciting records I have heard from a bass player in years. The writing and playing is excellent, with a very good sound and a wide spectrum of musical ideas».
Arild Andersen, bassist, composer
«An amazing project».
Greg Osby, saxophonist, composer, producer
«Excellent writing and playing. I especially like Petros' aggressive melodicism, beautiful intonation, and uniquely personal string writing».
Drew Gress, bassist, composer
"Klampanis plays solo bass with overdubs to create a double bass orchestra on Basscope and Blue Cave, which are done so masterfully that you'd think it was a full symphony".
Kevin Johnson, notreble.com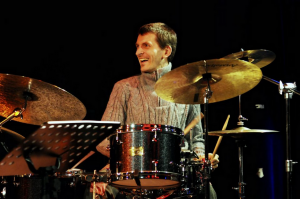 Bodek Janke, percussionist – drummer
«Janke is truly among the good ones…», Jazzpages, March 2010
Polish-born drummer and percussionist Bodek Janke has been dubbed «above-average», «outstanding» and «a master of many dialects» by international journalists in various musical situations. Being born into a Polish-Russian musicians' family, it was obvious for him to approach a professional musical career from an early age. His mother Olga Janke taught him first piano lessons at the age of 3 and his aunt, Tatyana Kamysheva taught him composition and music theory. At the Badisches Konservatorium Karlsruhe / Germany he received his classical percussion and music theory education. In his teenage years, Bodek was already an internationally acclaimed touring and recording marimbaphone virtuoso. From 1998 to 2004 he studied jazz-drums and jazz-composition at the Academy of Music of Cologne and graduated «with distinction». He completed his studies in 2007 with a «Master of Arts and Music Performance» – diploma from the City College of New York.
During his 6-year long stay (2004-2010) in New York City he had the opportunity to work with various artists such as David Liebman, Billy Harper, Ben Monder and Dave Binney. He performed several times at Carnegie Hall where recently his arrangement of «Wings», a composition by Samir Chatterjee, was premiered by the Orpheus Chamber Orchestra before Anoushka Shankar's performance. Regular engagements at local jazzclubs and venues (Iridium, Smalls, The Knitting Factory, 55 Bar) and international tours (the USA, Turkey, Kasakhstan, Germany, Greece, France, Spain, Poland, Morocco and Russia amongst others) were a long lasting source and inspiration for his music and work. Furthermore, he met his Guru (mentor), Pandit Samir Chatterjee and began his studies of Indian Classical Music and Tabla in New York.
Since 2010 Bodek Janke has moved back to Germany, working regularly with the WDR, NDR and HR Radio Bigbands (as a drummer and percussionist), with saxophonist Steffen Schorn, pianist and vocalist Olivia Trummer, trumpeter Matthias Schriefl and pianist Kristjan Randalu. Internationally he has been working with the US jazz violinist Jeremy Kittel (Turtle Island String Quartet), the israeli guitarist Gilad Hekselman (Ari Hoenig Quartet), the Parisian harmonica player Olivier Ker Ourio and the Moscow State Jazz Orchestra, just to name a few.
Besides appearances on jazz festivals (i.e. Moers Jazz, Izmir Caz Festivali, Jazzycolors Paris, Jazz Au Chellah Rabat, Jazz from A to Z Almaty, Jazzopen Stuttgart) and concert engagements at The Kennedy Center (Washington DC), the Philharmonics of Cologne, Essen, Warsaw und Almaty, Janke performed several times at Schloss Elmau and recorded music for labels such as Universal, Melodia, Jazz´n´Arts, Peregrina and Neuklang.
In 2008 he was awarded both the «Jazzpreis Baden-Württemberg», Germany's highest-endowed award for jazz musicians and the «German Records Critics' Award» («Preis der Deutschen Schallplattenkritik», with Olivia Trummer's CD «Westwind»). In 2010 he was voted «Best Soloist of the Year» at the «Neuer Deutscher Jazzpreis» – competition in Mannheim and he won the the first prize at the «4th International Bucharest Jazz Competition». This year he also became scholarship holder of the Baden-Württemberg Arts Foundation, the «Kunststiftung Baden-Württemberg».
Currently the intensely touring musician is focusing on recording his second own album «Global Dance Kulture», teaching workshops and masterclasses and establishing a cultural center and educational institution in the mountain region of Lower Silesia (Karkonosze).
Press Quotes
"With an intuitive grasp for the moment, careful, creative and like a mastermind at the same time… a masterful performance in the soundscapes of jazz"
(STICKS, April 2009)
"Above-average. A magic moment of improvised music. Janke makes drums and cymbals sing"
(SUEDKURIER, Juli 2009)
"The percussive work of Bodek Janke intertwines subtly and one understands immediately why this young man has been called an outstanding percussionist"
(hr-2 KULTUR / Jazzfacts, März 2010)
«The Universal Language – music – is made up of many dialects. Bodek Janke is a master of more musical dialects than anyone I can think of and on his new CD «Global dance kulture» Bodek tells a joyous music story by combining the world's musics in a personal and sophisticated way. Enjoy the journey»
(JOHN RILEY, New York City, May 2008)
«The music (The CD "Desde Manhattan") drew me and took me for a ride around town. Fantastic playing and composing as well. Janke is in full form»
(ARI HOENIG, New York City, June 2007)
"Janke's drumming is a masterpiece, his distinct and emotional playing is surpassing"
(BERND KONRAD, Stuttgart, March 2008)
"Having produced recording sessions with Bodek, I can attest to what a truly marvelous musician and human being he is. His talents are astounding, with a diversity of influences that is incredibly vast, musically connecting the ends of the earth. Music is the language of all people, and in this language Bodek is a poet. He represents what this society is striving for – unification through work, love, and beauty"
(TYLER DUNCAN, Michigan, October 2007)
«Bodek Janke walks playfully in between the worlds, he never seems to fear borders between genres, he actually merges them into a masterfully balanced unit. Music under his guidance radiates effortlessness and implicitness, making it distinctive throughout».
(ELIZA REZNICEK, Badische Neueste Nachrichten, 28. Februar 2008)
«The polish-born Bodek Janke is one of the most exceptional young musicians of the current Jazz and World Music scenes. Based in New York City, he is a cultural commuter between the USA, Kazakhstan, Russia, Poland and Germany. With his playing, Janke creates a new, distinctive style, merging drumset with a wild variety of instruments and drawing upon African, Indian, Eastern European and Latin American music traditions. He plays World Music with a jazz attitude and Folk Music with a contemporary language. And, above all, this "shaman's" energetic and expressive performances and compositions captivate every audience. An event that touches you to the bone».
(Stan Kelberg, 'Forum' 24/II, New York 2006)