NOTIS NAVROUDIS
«To the hatches of the time»
Notis Mavroudis, celebrating five decades in the music, offers us on 13/8 a unique journey «To the hatches of the time»! We will enjoy timeless songs by Notis Mavroudis from different eras, driven by two guitars, with colors, thrills and whispers. His companion is Morfo Tsaireli and Christos Konstantopoulos (vocals), George Tossikian (guitar) and Manos Avarakis (harmonica & wind instruments). Seeking to communicate through songs that marked our sensitivity over time … through the hatches of the time!
Notis Navroudis, guitar
Morfo Tsaireli, vocals
Christos Konstantopoulos, vocals
George Tossikian, guitar
Manos Avarakis, harmonica-flutes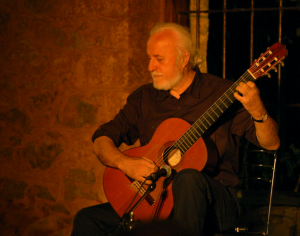 Notis Mavroudis, composer – guitarist
For more than four decades, Notis Mavroudis, along with his teaching career, has a strong presence in all the guitar proceedings of Greece. He studied guitar at the National Conservatoire with Demetris Fambas, and in 1969 in Spain with Jose Tomas.
As a soloist and guitar tutor, but as a composer of art songs as well, he gave many concerts and recitals, in Greece and abroad. In 1965 he was awarded the 1st Prize at the Thessaloniki Song Festival and in 1969 the 1st Prize at the International Guitar Contest in Milan. In 1990 he was awarded at the international child song contest in Lisbon. In the same year the Brazilian Embassy in Greece awards him the «Heitor Villa-Lobbos» for his contribution on the popularization of the work of the Brazilian composer in Greece.
His presence through all these years is unfailing, with compositions for Theatre and Cinema, columns in newspapers and magazines, interactions with radio stations, as well as a web project that began in 1969 in the Music Academy of the municipality of Milan, and continued from 1975 in Greece (chiefly in Athens). He has at times taken over managing positions in national institutes and organizations and he has been an art director in a number of festivals. From 1983 to 1987 he publishes and manages the only guitar magazine, Tar (string), while he organizes important concerts of world famous guitarists.
His rich discography includes acts for classic guitar and compositions with popular singers. In 2000 he started a 6-record series in the form of a duet entitled «Café de l' Art», recording various types and seasons of music. In 2005 and 2006, he wins the "Arion" award for this series of albums with cinema music and adaptations of songs of Tsitsanis and Vamvakaris. In 2002 he established the record Label "Corifeo" of "Eros music" company, which is distinguished for the exceptional alternative publications of various music types. Particularly interesting is his artistic monitoring and the co-ordination over 29 Greek guitarists, recording the history of half a century's guitar discography entitled: "Master Class". From 2006 he is the person in charge of the musical planning of the "Athenian Underground". From October 2006, he is running the web periodical TaR, in the web page: www.tar.gr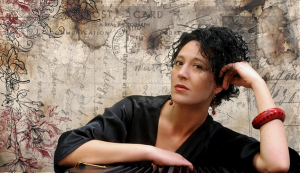 Morfo Tsaireli, vocals
She was born in Germany and grew up in Thessaloniki. She started singing in spring 1992, next to her sister, Niki Tsaireli and the Prastinakis brothers. Later, she moved to Athens near Kostas Kaldaras, Eleni Tsaligopoulou, Ilias Liougos and Kostas Pavlidis. Since then she's worked with important young composers and songwriters of the new music scene, like Giorgos Andreou, Hristos Tsiamoulis, Stelios Vamvakaris, Iraklis Vavastikas, Padelis Thalassinos, and with great singers like Dimitris Mitropanos, Kostas Makedonas, Giannis Kotsiras, Alkinoos Ioannidis, Melina Kana, Anastasia Moutsatsou etc…She's had phonetics' lessons with Fragkiskos Voutsinos and Anna Diamantopoulou.
In April of 1999 her first CD came out, entitled «Pes mou psihi» including Kostas Kaldaras and Iraklis Vavatsikas' songs. In December of 2002 the CD «Gia foni kai akkornteon» came out with the cooperation of Iraklis Vavatsikas. It includes Greek and foreign songs orchestrated for voice and bajan by Iraklis Vavatsikas. Since October 2004, she had been closely collaborating with two guitarists and composers, Notis Mavroudis and Panagiotis Margaris, in concerts in Greece and abroad. She also participated in Mayroydis' CD -with Ilias Katsoulis' lyrics- entitled «CARTE POSTALE», that came out in November 2006. In March 2008 her CD «Epidi eisai esi» came out, with Tasos Potamianos' music and lyrics.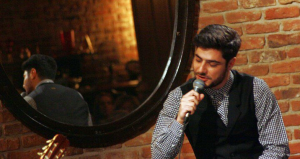 Christos Konstantopoulos, vocals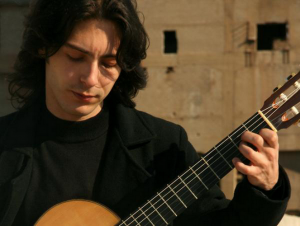 George Tossikian, guitar
George Tossikian was born in Piraeus in 1981. He studied guitar with Iakovos Kolanian (Contemporary Conservatory of Athens), graduating in 2004 with a unanimous First Class Diploma. At the same time, he followed seminars by eminent guitarists Manuel Barrueco, Roland Dyens, Oscar Ghiglia, Evangelos Αssimakopoulos and Liza Zoe. He distinguished himself in Greek contests (Hermoupolis Guitar Festival, Patras Guitar Festival), winning first prizes and an honorary award from the Guitar Friends Association 'Dimitris Fampas'. Since 2005 he has given recitals in Athens and other Greek cities. He has participated in such festivals as Patras Guitar Festival, Symi Festival, The Young for the Young, European Music Day.
In 2008, during the cultural events of the Athens Cervantes Institute, he collaborated with award-winning Spanish poet Αntonio Gamoneda, and a year later he gave his first recitals in London as a participant in the 2009 Ekon Festival. In recent years he has been permanent collaborator and member of the orchestra of composer George Varsamakis. Since 2011 George Tossikian collaborates as a duet with the noted guitarist and composer Notis Mavroudis. In 2010 his first discographic work has been released by MOTIVO company, under the title »Guitar Music by Greek Composers». He teaches classical guitar at the Contemporary Music Education Conservatory.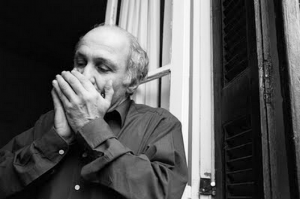 Manos Avarakis, harmonica – flutes