Loukia Loulaki – string trio
On 7/8 a special recital of classical music from a string trio from Vienna, consisting of the Greek Loukia Loulaki (violoncello), the Polish Magdalena Wieckowska (violin) and the Spanish Damian Posse (double bass). The two talented and promising young ladies soloists, members of the Trio 92, who do their postgraduate studies at the University of Music and Arts in Vienna, collaborate with the award-winning Spanish virtuoso bassist Damian Posse in a unique musical performance. Three young artists who have already begun to stand out internationally in the eclectic field of classical music.
Loukia Loulaki,
violoncello
Magdalena Wieckowska,
violin
Damian Posse,
double bass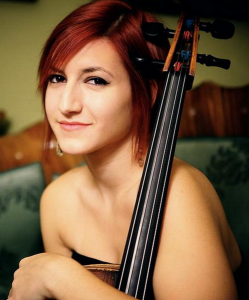 Loukia Loulaki, cellist
Loukia Loulaki was born in Athens, Greece in 1992. She studied cello at the Athens Conservatory, as a scholarship student, under Dimitri Gouzios. In June 2008, at the age of 16, she had already completed her violoncello studies and graduated (cello performing diploma) with the highest honors, receiving the «Gold Medal Award", a prize that hadn't ever since 1915 been awarded to a cellist by the Athens Conservatory. By that time she had already been a first prize winner at various Greek musical competitions. The period 2007-2009 she also had lessons with Marianne Chen. In June 2008 she won the "Gina Bachauer Award" dedicated to the memory of M. Rostropovich, thereby receiving a scholarship by the "World in Harmony Foundation", which continued the next year 2009-10 as well.
She has participated in various master classes and seminars with professors such as Giorgos Hatzinikos, Grigori Zhishlin (chamber music), Maria Kliegel, Marianne Chen, Wolfgang Emanuel Schmidt, Peter Nagy (chamber music), Amiram Ganz, Claus-Christian Schuster and Natalia Gutman. From March 2007 she has attended the postgraduate courses at the Scuola di Musica di Fiesole, in Italy, with Natalia Gutman (in collaboration with Elizabeth Wilson), by the scholarship of "World in Harmony Foundation" and in April of 2008 she won by the school the Price Premio Walter Boccaccini. Since September 2010, at the age of 18, she has been accepted for Master Studies in the Vienna Konservatorium Privatuniversität with Natalia Gutman, this time under a scholarship by the "Onassis Foundation".
Loukia Loulaki has performed as a soloist with the Athens State Orchestra (at the Athens Megaron Music Hall), the Thessaloniki State Symphony Orchestra (at the Thessaloniki Megaron), the Orchestra of Colours (at Trianon Concert Hall) and the Orquesta Ciudad de Granada (at the Manuel de Falla Concert Hall, Granada). She has recorded for the Symphony Orchestra of ERT (Greek Radio Orchestra). She has given recitals in Greece, Italy, Austria, Poland, Slovakia, Croatia and Slovenia (in concert halls like the Greek National Opera House in Athens, the «Philological Society Parnassus», the Auditorium of the French Institute of Athens and the Benaki Museum, the Auditorium San Micheletto in Lucca and Ferruccio Busoni in Empoli, the Basilica di Sant' Alessandro of Florence, Festival dei Due Mondi di Spoleto, in Musikverein, in the 3rd International Music Festival of Aegina and the 14th Festival of Manolis Kalomoiris in Samos and in Wiener Rathaus).
Her orchestral experience includes playing in Orchestras such as the Athens State Opera Orchestra, Morphing Chamber Orchestra (Austria), Purpur Orcherstra in Festival Kvarner (Croatia), Orchestra Ciudad de Palencia and more. Famous Greek Composers like Filippos Tsalachouris and Periklis Koukos asked her to perform their works. In March 2012 she won the Tzuzuki-Stiftung scholarship and recorded for ORF in RadioKulturHaus Wien.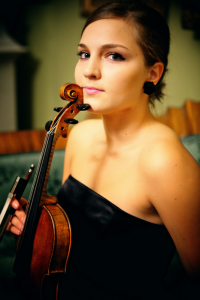 Magdalena Wieckowska, violinist
Magdalena Wieckowska was born in 1992 in Bielsko-Biala, Poland, where she graduated with honors from the State Stanislaw Moniuszko's Music School in Prof. Josef Iwanowicz class. At the age of 17 she passed exams to violin concert class of Professor Edward Zienkowski at the University of Music and Arts in Vienna, where she is studying till now. In 2009 and 2010 Magdalena got a Scholarship from the Prime Minister of Poland for the best student at school.She played as concertmaster in the school orchestra with which she had concerts in Italy in 2007 and 2008. In 2011 had a tour with Euphony Young Orchestra in Austria, Hungary, Slovenia, Croatia, while she played with Wiener Jeunesse Orchester in Austria, Italy, Germany. She took part in orchestra master classes under the patronage of the Vienna Philharmonic Orchestra and in January 2012 in a tour with Vienna Walzer Orchestra in Japan. She also played in Ossiach Akademie Orchester (run by members of Vienna Philharmonic) and in Purpur Orchester during the Kvarner Festival in Croatia. She is being invited as violinist not only to orchestra projects but also to chamber music ensembles (Camerata Polonia, Cum Sonore Orchester Wien).
She has participated in many master classes with such professors like Edward Zienkowski – (Wiener Musik Seminar), Wolfgang Marschner, Andrzej Grudzien (International Master Classe in Lancut- Poland), Marianne Pikety, Stefano Pagliani, Krzysztof Jakowicz, Kaja Danczowska. In 2012 she got an Artistic Scholarship from Department of Culture and Art from City Bielsko-Biala and also Scholarship from «Pro Bono Musicae» Association. Since 2012 is the violinist in Piano Trio 92.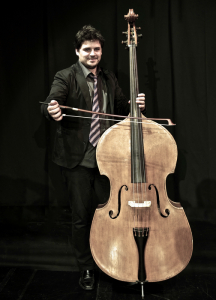 Damian Posse, double bassist

Damian Posse born in 1985 in León, Spain. There he began double-bass studies in 1992 with Professor Jesús Méndez, where he obtained the «Elementary Title» and «Professional Title» as well as Honorable Mention for academic merits. He debuted as soloist in front of the "Conservatory´s Symphony Orchestra" at the age of fifteen, and a year later under a recital for «Young Performers».

In 2005 he entered the «Conservatory of Music of Salamanca» under the guidance of Ruth Alonso and Joaquín Clemente (co-soloist in the Orquesta Sinfónica de Castilla y León) to take the courses of «Bachelor Title», which gets the highest marks in the final performance. Starting in 2008 he merged into the «Universität für Musik und KunstDarstellende» in Vienna, being selected as one of the five students of the Solo Double-bass of the "Wiener Philharmoniker", Alois Posch who now continues his postgraduate studies with the academic place in «Ossiach Orchester Akademie» of Kertner, Austria.

During his career he has taken Master Lessons with some of the most important performers around Europe as Damien Arenas «RTVE Orchestra,» Diego Zecharies «Orquesta Sinfónica de Galicia», Margaret Urquhart «Conservatory of Amsterdam», Alexander Preuss «Münchner Philharmoniker", Ulrich Wolf "Berliner Philharmoniker» or Johannes Aursperg "Wiener Philharmoniker».

During his growing career, Damian Posse has already acted on stages in several countries such as Spain, Austria, Croatia, Germany, Switzerland, Poland, France and China, and has been invited by big orchestras as the «Symphony Orchestra of Galicia», «Orchestra Rostov state», «Ensemble Berlin», «Ensemble Wien Klang», «Metropolitan Kammerorkester Wien».