Gadjo Dilo – gypsy jazz swing
On 17/8 the surprise band of the year, Gadjo Dilo, who have managed to link musically the bouzouki of Tsitsanis and Chiotis with the gypsy jazz swing guitar of Django Reinhardt, revive another era in the warm Concert Hall of Megaro Gyzi. Gadjo Dilo discover in the colourful universe of gypsy jazz the memories and the scents of Greece, imparting the beauty of coexistence of two great musical traditions ("Manouche de Grec") and filling the audience with energy, vitality and warm smiles.
Gadjo Dilo:
Sotiris Pomonis, guitar
Kostas Mitropoulos, guitar
Nikos Vlachos, double bass
Sergios Chrisovitsanos, violin
Giorgos Tsiatsoulis, accordion 
Ilianna Tsapatsari, vocals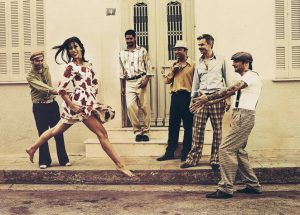 Gadjo Dilo
Gadjo Dilo is a unique band created with the sole purpose of reanimating the Manouche gypsy jazz musical tradition. Their source of inspiration is the great gypsy jazz guitarist Django Reinhardt, characterized by all great jazz musicians -without exception- as a genius. Django's artistic and personal journey and old jazz sounds of the '30s and '40s are listed by Gadjo Dilo as their basic influences.
In their debut album, entitled "Manouche de grec", they explore their love for Django, as well as their love for older Greek songs of the same era (rembetiko-folk songs). Manouche De Grec, released independently in September 2013, is a collection of ten cover songs with the band's most beloved Greek songs finely blended with the sounds and flavors of gypsy jazz. The album has received glowing reviews and some of the songs have been used on several television shows and commercials.
Their summer 2013 tour in Greece and the Balkans include several appearances in concert stages and festivals, i.e. Athens  Django Festival, European Music Day and in two of the largest European Jazz Festivals, namely Bansko International Jazz Festival 2013, in which they appeared as headliners, and Nisville International Jazz Festival 2013, in which it was the first time ever a Greek band performed. They have performed next to international jazz bands like Bobby Carcasses, Nouvelle Vague, Kyle Eastwood Band and Jazzanova.
Their winter 2014 appearences included music stages in Grecce, i.e. Gazarte Music Stage, Gialino Music Theater, Mylos Club Theater and the opening of "Shantel" (Stefan Hantel, aka Shantel) concert.